Wondering how to teach toddlers about God? Every parent wants to raise a kind, disciplined, and faithful child. For Christian and spiritual parents, introducing God is an important part of life. They want their little ones to be closer to their faith and Christ.
Religion and belief play a big role in family and child-rearing. Having some form of belief can shape a child's morality in the future. That's why parents should start introducing these concepts at a young age.
Approaching God and religion to a toddler might be intimidating. Children's minds and perceptions are very moldable and easy to manipulate during this tender age. So parents might feel scared of how to introduce their toddlers to Christ.
There are ways to introduce godliness to toddlers at a young age. Here are 5 ways on how to teach toddlers about God.
1 Teach Them How To Pray
Talking to God is the best way to get close to him. The Bible has repeatedly mentioned the importance of prayer. Prayers are a way to communicate to God about what we feel.
Parents can teach their toddlers to pray. It can start as a simple 3-5 sentences about thanking God before bedtime. And as time goes, prayers can be introduced after waking up, during mealtime, and during times of happiness or sickness.
Toddlers don't have to memorize mantras or recite long prayers. What matters is that it comes from their heart. Parents should welcome all sorts of prayers, such as long ones or short ones.
If you want a more in-depth article about prayers for toddlers, you can visit Dollie Freeman's article right here.
2 Read Them Bible Stories with Colorful Cartoon Pictures
Children are drawn to picture books. Picture books are an amazing tool to use to introduce children to reading and literature. Giving toddlers picture books can help them develop literacy skills.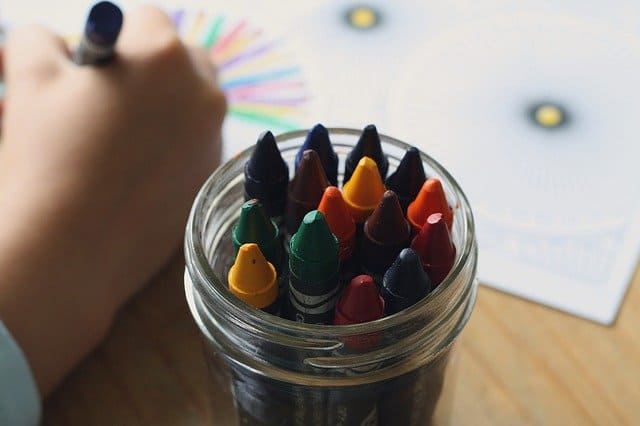 Bible storybooks for children often come with colorful, fully illustrated pictures. Toddlers can enjoy looking at the drawings while parents read to them. Not only can toddlers learn about the Bible, but reading can also be a lovely bonding moment.
Parents can read to their kids before naptime or bedtime. You can also combine reading with soothing music in the background.
Another idea is that parents can make their children read the books for them. Toddlers can use their storybooks as a way to learn to read and speak. They can also comprehend the stories and morals that are in the Bible.
The Word of God is an important literature piece for a lot of Christians. Introducing this at an early age can help shape a toddler's faith and devotion.
3 Bring Your Toddler To Sunday School
The church is where people can celebrate the Lord and His Word. Bringing toddlers to church can be a step in the right direction.
However, not all toddlers can enjoy staying in a church. They can cause trouble to other patrons if they start crying or playing. Other times, church services can lull a toddler to sleep.
Instead of taking them to service right away, try to introduce them to Sunday school. Plenty of churches offer classes for young children to learn and socialize. These environments are safe for children to practice their faith.
Sunday schools are great for broadening children's horizons. They can learn to play and interact with other children their age. Plus, they might even bring home a friend or two.
Parents should bring their kids to Sunday school to have fun and be closer to the Lord. And once they are older, then they can sit down inside the church.
4 Use Educational Shows and Media
Different forms of digital media such as TV, computers, mobile devices, and video games can greatly affect children. Media has both a positive and negative influence on the growth and development of a toddler.
Parents can be scared of using media to teach their toddlers. One wrong press and their kids can watch gory or pornographic material. But not all media online and on-air are dangerous.
Different shows and media can be kid-friendly and teach valuable lessons. It's simply up to the parents if whether or not they're willing to find it.
Parents should supervise their children when consuming any form of media. In fact, watching TV or YouTube can be a good way to spend time together as a family. Don't discourage toddlers from watching children's shows, both religious and secular.
5 Do What Is Right In Front of Your Toddler
Parents are the primary source of value in the eyes of children. No matter how influential teachers, friends, and the media are, toddlers will always come back to their parents for guidance. So whatever actions parents, do a child will automatically think it is correct.
The Greatest Commandment that Jesus taught his disciples is to love God and to love their neighbor. What is the use of teaching Christian values to children if you don't teach them to love and respect other people?
Parents must be role models to their kids. Parents can do small but good deeds every day, especially in front of their toddlers. Being nice to strangers, being loving to your spouse, and doing charity works are some things the family can do.
Toddlers in a healthy and kind environment can carry this behavior into the future. So parents must do their best to show love to both God and the community.
Conclusion
Raising a behave, God-fearing, and nice child can be a challenge. It can even be an intimidating task at hand. Fortunately, with patience and love, parents can rear a healthy Christian kid.
Toddlers' minds are easily influenced, and they can learn from their surroundings. Raising them in a godly environment can impact their growth and development positively. Teaching them Christian values can bring them closer to God.
Simple activities such as reading Bible stories and praying together can greatly mold a child spiritually. They can learn a lot from these daily activities and use them in the future. They can also teach other children like siblings and friends once they grow older.
Bringing toddlers closer to God can be rewarding. It is a prideful moment for any parent to see their kid growing responsible, caring, and loving to God and their neighbors.